06.25.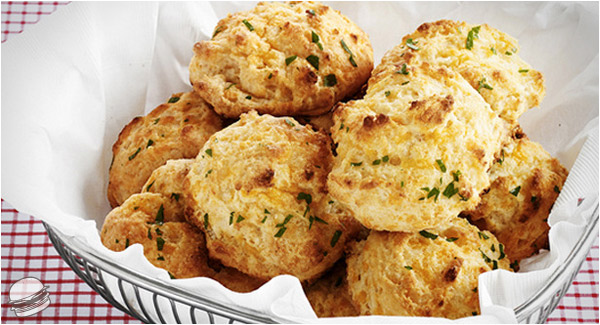 Ingredients:
For the biscuits:
Cooking spray
1 3/4 cups all-purpose flour
1 tablespoon plus 2 teaspoons baking powder
2 1/2 teaspoons sugar
1/4 teaspoon salt
3 tablespoons vegetable shortening, at room temperature
4 tablespoons cold unsalted butter, cut into 1/2-inch pieces
6 ounces grated yellow cheddar cheese (about 1 1/4 cups)
3/4 cup whole milk
For the garlic butter:
• 3 tablespoons unsalted butter
• 1 clove garlic, smashed
• 1 teaspoon chopped fresh parsley
Directions:
Position a rack in the upper third of the oven and preheat to 425 degrees. Lightly mist a large baking sheet with cooking spray.
Make the biscuits: Pulse the flour, baking powder, sugar and salt in a food processor. Add the shortening and pulse until combined. Add the butter; pulse 4 or 5 times, or until the butter is in pea-size pieces. Add the cheese and pulse 2 or 3 times. Pour in the milk and pulse just until the mixture is moistened and forms a shaggy dough. Turn out onto a clean surface and gently knead until the dough comes together. Do not overwork the dough or the biscuits will be tough.
Drop the dough onto the baking sheet in scant 1/4-cup portions, 2 inches apart, and bake until golden, 15 to 20 minutes.
Meanwhile, make the garlic butter: Melt the butter with the garlic in a small saucepan over medium heat; cook for 1 minute. Remove from the heat and stir in the parsley. Brush the biscuits with the garlic butter and serve warm.
No Comments