07.17.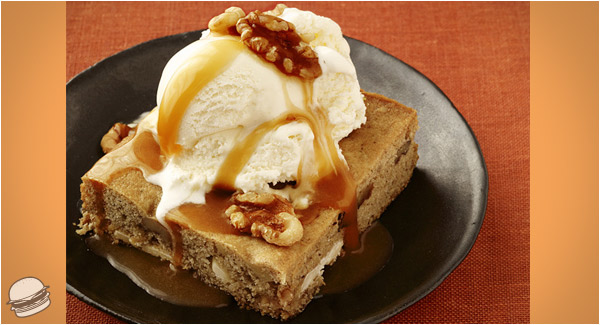 Ingredients
For the Blondies:
10 tablespoons unsalted butter, at room temperature,
plus more for the pan
1 cup walnut pieces
2 cups all-purpose flour
1 teaspoon baking powder
1/2 teaspoon baking soda
1 teaspoon salt
1 1/2 cups packed light brown sugar
3 large eggs
2 tablespoons vanilla extract
6 ounces white chocolate, cut into chunks
For the Topping:
• 1/3 cup maple syrup
• 6 tablespoons unsalted butter
• 1/4 cup heavy cream
• Vanilla ice cream, for serving
• 1/2 cup walnut pieces
Directions:
Make the blondies: Preheat the oven to 350 degrees F. Line a 9-by-13-inch baking pan with foil, leaving an overhang on two sides; butter the foil. Pulse 1/2 cup walnuts in a food processor until almost fine (do not overprocess). Whisk the ground nuts, flour, baking powder, baking soda and salt in a medium bowl.
Beat 10 tablespoons butter and the brown sugar with a mixer on medium speed until fluffy, about 2 minutes. Beat in the eggs, one at a time, scraping down the bowl with a rubber spatula. Beat in the vanilla. Gradually beat in the dry ingredients until just combined. Fold in the white chocolate and the remaining 1/2 cup walnuts.
Spread the batter in the prepared pan and bake until the blondies are light brown around the edges and spring back when pressed, about 30 minutes. Cool slightly on a rack.
Meanwhile, make the topping: Place the maple syrup and butter in a small saucepan over medium heat and cook until the mixture bubbles and thickens, swirling the pan, about 6 minutes. Add the cream and continue to cook until the mixture is the consistency of caramel.
Use the foil to lift the blondies out of the pan, then cut into large bars. Serve warm topped with ice cream, the maple-butter sauce and the walnuts.
No Comments