05.04.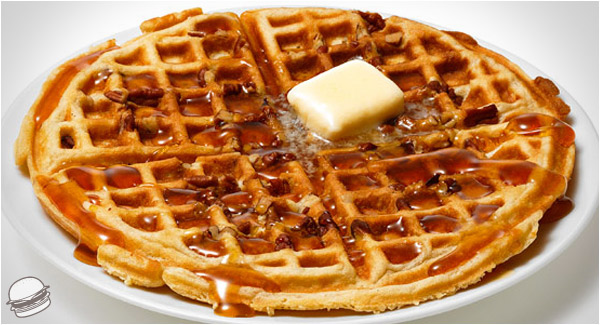 Ingredients:
3/4 cup pecans
1 1/2 cups all-purpose flour
1/3 cup sugar
1/2 teaspoon salt
1 teaspoon baking powder
1/2 teaspoon baking soda
1 large egg
1 cup whole milk
1/2 cup buttermilk
2 teaspoons vanilla extract
2 tablespoons unsalted butter, melted and cooled, plus more for brushing and topping
1/4 cup vegetable shortening, melted and cooled
Maple syrup, for topping
Directions:
Preheat the oven to 350 degrees F. Spread the pecans on a baking sheet; bake until toasted, 5 to 7 minutes. Let cool, then chop. Reduce the oven temperature to 200 degrees F.
Whisk the flour, sugar, salt, baking powder and baking soda in a large bowl. Whisk the egg, milk, buttermilk and vanilla in a separate bowl until combined. Stir the egg mixture, melted butter and shortening into the dry ingredients until just combined. (The batter will be lumpy.)
Preheat a waffle iron and brush with melted butter. Ladle some batter into the iron (about 1/2 cup, depending on your waffle iron); sprinkle with 2 tablespoons toasted pecans. Cook until golden brown, then transfer the waffle to a baking sheet and keep warm in the oven. Repeat with the remaining batter. Top the waffles with butter and maple syrup.
No Comments