Romaine
06.22.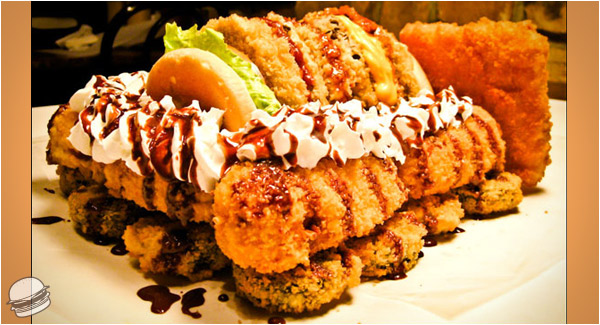 1 bun, 6 tempura ¼ lb. angus beef patties, 6 toppings of choice, 2 onion rings, sliced tomato and romaine lettuce, 5 tempura Twinkies, 10 tempura Oreos, whipped cream, Hershey's chocolate syrup, and 2 pieces of tempura macaroni and cheese.
 If completed in 25 minutes, the challenge is free ($45 value), you get your picture on the Wall of Fame, a free t-shirt and free gift certificate for a Tempura Heart Attack. If you lose, your picture goes up on the Wall of Shame.
Berkeley, California
No Comments
05.26.
Grilled chicken breast, vine ripened tomatoes, romaine lettuce, extra aged cheddar, mayo and honey garlic barbecue sauce on a Vienna baguette.
No Comments
05.26.
Avocado, Tomato, Grilled Corn, Black Beans, Cucumber and Romaine all Tossed with Our Barbeque Ranch Dressing. Topped with Lots of Crispy Fried Onion Strings for crunch.
No Comments