05.08.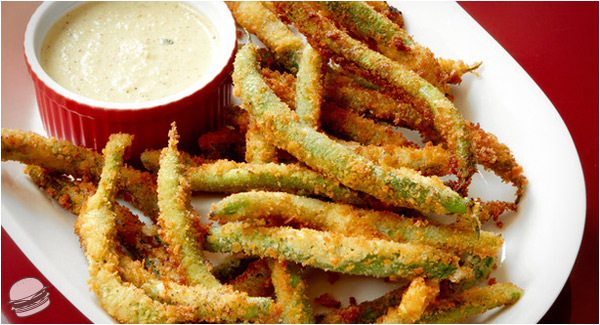 Ingredients
For the Dip:
1/2 cup ranch dressing
1/2 cup peeled, seeded,chopped cucumber
1 tablespoon horseradish, drained
1 tablespoon milk
1 teaspoon distilled white vinegar
2 teaspoons wasabi powder (found in the spice aisle or with the Asian foods)
Pinch of cayenne pepper
Kosher salt
For the Beans:
• 2 cups low-sodium chicken broth
• 1/2 pound green beans, trimmed
• 1 large egg
• 1/2 cup milk
• 1 cup instant flour (such as Wondra)
• 1 cup breadcrumbs
• 1/4 teaspoon onion powder teaspoon garlic powder
• Pinch of cayenne pepper
• Kosh er salt and freshly ground black pepper
• Peanut or vegetable oil, for frying
Directions:
Make the dip: Puree the dressing, cucumber, horseradish, milk, vinegar, wasabi powder, cayenne pepper, and salt to taste in a blender until smooth. Cover and refrigerate until ready to serve.
Prepare the beans: Fill a large bowl with ice water. Bring the broth to a boil in a saucepan over high heat. Add the green beans and cook until tender, about 5 minutes. Remove the beans with a slotted spoon and transfer to the ice water to stop the cooking. Let cool in the water, then drain and pat dry.
Whisk the egg and milk in a shallow bowl. Put 1/2 cup flour in another shallow bowl. Combine the breadcrumbs, the remaining 1/2 cup flour, the onion powder, garlic powder, cayenne, and salt and pepper to taste in another bowl.
Line a baking sheet with parchment paper. Toss the green beans in the flour and shake off the excess. One at a time, dip the beans in the egg mixture, dredge in the breadcrumb mixture and lay on the prepared baking sheet. Freeze until the coating is set, about 30 minutes.
Heat 3 inches oil in a deep pot over medium heat until a deep-fry thermometer registers 350 degrees F. Fry the green beans in batches until golden brown, 1 to 2 minutes. Transfer the beans with tongs or a skimmer to a rack or paper towels to drain. Serve with the dip.
2 Comments